Eddie Gilbert Pt. II
- Tim S. Dills.
Part Two
Part two of this article discusses the last half of Eddie's career including his return to the NWA, his returns to Memphis, his stay with the GWF and his involvement in the early days of ECW. Part one left off in the fall of 1988 after Eddie had left the CWF. CWF officials claim Eddie worked outside the territory when he claimed he was too injured to work for the CWF, Eddie said he left the CWF because the internal squabbling was more than he wanted to deal with anymore.
Good Times, Bad Times
It didn't take long for Eddie to find steady employment. He returned to the NWA promotion, which by this time was being bought out by media mogul Ted Turner. In the fall of 1988, Gilbert returned and found himself first avenging the injury of "friend" Jim Garvin (how Garvin and Gilbert were friends was never established) at the hands of Kevin Sullivan, Mike Rotondo and Rick Steiner, a trio billed as The Varsity Club whom Gilbert referred to as The Home Shopping Club. Whatever momentum he could gain from working with this crew was cut off as Steiner was being turned babyface by booker Dusty Rhodes, although Gilbert's past association with Steiner was mentioned. Gilbert wound up teaming with Ron Simmons in the U.S. tag title tournament and losing in the finals on the nationally televised Clash of the Champions telecast on December 7, 1988 from Chattanooga, Tennessee to the Fantastics (Tommy Rogers & Bobby Fulton).
1989 started with the NWA in a flux. Booker Dusty Rhodes was let go and the search for his replacement began. In the meantime, weekly TV had to be cranked out as the new ownership tried to get it's bearings after years of Rhodes' booking had nearly bankrupted Crockett which lead to his selling of the company to Turner. Eddie found himself entangled in a mini-feud against the Four Horsemen duo of Barry Windham and Nature Boy Ric Flair. Gilbert gave Windham fits on TV one week and Windham's saving grace was the interference of Flair. Undeterred, Gilbert vowed a mystery partner the following week to battle Windham and Flair.
The next week found Flair and Windham waiting in the ring anxious to battle Gilbert and his mystery partner. Flair grew upset when music began airing that he recognized signaling an old rival had returned to create grief in his life. Eddie's mystery partner turned out to be Ricky Steamboat, a Flair rival dating back to 1977. In a fantastic TV tag match, Steamboat pinned Flair as Gilbert held off Windham setting up a series of Flair-Steamboat matches that may never be rivaled again in the U.S. The Flair-Steamboat feud breathed new life into the NWA which had all but died in 1988 and at least some of the success the NWA achieved in 1989 (the company had a banner year artistically) should be attributed to Gilbert's work at getting over Flair and Steamboat early in the year.
Former Mid-Atlantic and WWF booker George Scott took over the creative reigns of the NWA. Scott's stay lasted just a few months before he was let go. In his place a booking committee was formed that during various times would include such wrestling luminaries as Jim Ross, Ric Flair, Jim Cornette, Jim Crockett, Jr., Jim Barnette, Kevin Sullivan and others including Gilbert, added no doubt due to his UWF and CWF booking success.
In ring, Gilbert wound up feuding some with Kevin Sullivan. Gilbert reunited with Rick Steiner to win the U.S. tag titles while Missy Hyatt was reintroduced into things as a manager and, for a brief time, The First Family was reformed. In the spring of 1989 Gilbert also had a brief run against The Great Muta, one of the business's hottest attractions at the time. The summer found Gilbert reuniting some with Sting but it was only an attempt to raise Sting to an even higher level as Sting would eventually be paired with Ric Flair against Muta and the legendary Terry Funk as Sting was being groomed to become the company's major star.
Gilbert's partnership with Rick Steiner ended when Rick's brother, Scott, debuted in WCW. Missy, who also had a TV role as an announcer, was added as their manager. Eddie, meantime, began to slip into mid-card status.
Eddie's fall from the main events can be attributed to office politics. The committee approach to booking was loaded with landmines. Committee members had their own agendas. Often members were pitted against each other. Friendships were tossed aside in favor of power. Flair ascended to the head booker slot eliminating the need for a committee and leaving Gilbert to test his wares in the ring. It is fair to say from this point forward Gilbert's views toward the committee approach of booking and in particular the machinations of Jim Ross, Kevin Sullivan and Ric Flair in such an environment left him very disillusioned and disappointed with the whole process.
Eddie remained in the NWA (to eventually be renamed WCW) for a few more months but was never used to his potential. Gilbert played a subtle heel in a few exciting TV matches with Brian Pillman. The short series featured several controversial finishes but after a few of these decisions, Pillman got a decisive win and the mini-feud was dropped. Gilbert also feuded some with Samoan Samu (notable for Samu hitting Gilbert with a pineapple in an interview segment with Jim Cornette). Eddie also reunited with Tommy Rich for some tag matches against Samu and Joel Deaton and also against The Samoan Swat Team: The Samoan Savage & Fatu.
By 1990, Eddie's life was drastically changing. He packed up and left WCW. His marriage to Hyatt had fallen apart and ended in divorce. As he often did when the road turned an unsure way, he returned to Tennessee to try to get his bearings after being one of the first, but hardly last, victims of the corporate train wreck known as WCW.
Back Home Again

Eddie Gilbert's return to Memphis was clouded with controversy. Some say he used injuries to get out of his contract with WCW and then quickly returned to ring action once out of the contract. If this is the case it placed doubt on whether or not Gilbert was injured seriously at all. Such controversy had followed Gilbert for awhile and would prove to be a frequent companion to Gilbert. Gilbert would turn to wrestling's underground press (another controversial move at the time) to explain his side of the story. While it was a move frowned on by many in the business since wrestlers had traditionally not broken character to anyone outside the business it was a move that endeared Eddie to many who counted on the underground press to provide them with insights into a world they knew little about but longed to understand better.
Eddie's 1990 Memphis run remains underrated. He returned and said he was back in Memphis so Jerry Lawler could pass the torch of the area's top wrestler to him like Jackie Fargo had passed the torch to Lawler. Eddie's fascination with this angle even lead to him hiring a manager for much of his Memphis stay in 1990 who was billed as Sam Bass Lowe. Sam Bass, of course, was Lawler's longtime manager. In reality, Gilbert and Lowe, a photographer, were longtime friends. It was just one of several memorable moments during Eddie's 1990 Memphis stay.
As the Gilbert-Lawler feud kicked in, a major hardcore angle was plotted by Gilbert and Lawler. Eddie and brother Doug would be "fired" by promoter Eddie Marlin during the weekly live Memphis TV show. The Gilberts would argue with Marlin who would begin leading them out of the studio and into the parking lot. As Doug left to retrieve their transportation Eddie continued to argue with Marlin. The argument escalated as Eddie shoved Marlin to the ground and verbally assaulted him. Lawler raced out of the building forcing Eddie to back away to the waiting car. Eddie hopped in the car, gunned the engine and sent a speeding auto directly for Marlin and Lawler. Marlin gets out of the way but the Gilberts hit Lawler, who takes a tumble onto the car's hood and windshield. The Gilberts then speed away as wrestlers rush out to check on Lawler.
Viewers were stunned. Some viewers called an ambulance to assist Lawler. Others called the police to report a hit and run. Lawler, literally bruised and battered from the incident, returned to the TV show a few minutes later to show fans he was not injured seriously which took the heat off Gilbert with the police but may have also hurt the angle in the short run by spoiling the intended level of deviousness of Gilbert's deed.
During the 1990 Memphis run Eddie often teamed with brother Doug and also some with Dirty White Boy Tony Anthony. Eddie even teamed a few times with Hollywood John Tatum, whom he once competed with for the affections of Missy Hyatt in real life. The Gilberts and their partners mainly feuded with Lawler and Bill Dundee.
Eddie served as booker during part of 1990 for Memphis. He had lofty goals for the fall of the year. The USWA title had been in turmoil much of the summer and Eddie, as booker, felt a tournament with several quality wrestlers and the proper build-up would mean something.
Eddie played the event up by bringing in several stars who had either never worked the territory or rarely worked the territory such as Dick Murdoch, Dick Slater, Mark Callous (who would leave afterwards to begin his stint as the WWF's Undertaker), Terry Funk and Steve Keirn. He also threw in area veterans such as himself, Lawler, Dundee, Gary Young, Austin Idol, Jeff Jarrett and others.
The result was one of the biggest crowds and largest gates the territory had seen in several years. The tournament was well-booked providing great drama and some surprises with Lawler winning the tournament. Politics reared it's ugly head again though as some of the talent wasn't pleased with how they were booked by Gilbert.
Gilbert turned in his booking pencil but remained in the area. As 1991 came around Gilbert found himself working with and against such talent as Robert Fuller, Eric Embry, Dr. Tom Prichard, Tony Anthony and even a rising star known as Steve Austin. One of the highlights of this time frame was the return to the area of The Fabulous Ones: Steve Keirn and Stan Lane with their new manager Jim Cornette. This time the Fabs did turn heel and Gilbert often faced them in tag matches.
Philadelphia Freedom
While Gilbert continued to work USWA cards he also found himself traveling north to work frequent dates in Philadelphia. Philadelphia had become a city that liked their certain brand of wrestling. Philadelphia fans didn't care for wrestlers who phoned in an in-ring performance. If you busted your rear-end you were not only appreciated but in some cases, worshipped. For years, the WWF (and their predecessor, the WWWF) had operated regular cards in Philadelphia. As the business changed in the mid-1980s, Jim Crockett, Jr.'s NWA began running shows there and attracted fans who liked the wild action the NWA provided (compared to the cartoon-like product the WWF pushed at this time). By 1990 though the WWF and WCW provided action many longtime Philadelphia fans found boring. The independent wrestling scene, in search of wrestling it craved, began to thrive in the city.
With no ties to either major group Eddie was free to work such independent groups. He began working for the Tri-State Wrestling Alliance in 1990. During September he squared off with a relative newcomer many fans were raving about billed as Cactus Jack. Later in 1990, the Gilbert-Lawler feud found it's way to Philadelphia with Lawler taking a win.
Since Gilbert's style favored brawling he was often matched against fellow brawler Cactus Jack in his Philadelphia appearances in 1991. During the year Gilbert and Jack would engage in a feud that would get fans talking about the physical punishment the two inflicted on each other. The highlight of their feud was a best of three falls match on August 3, 1991 with each fall having a different and unique stipulation. The first fall was a "Falls Count Anywhere" match won by Jack. The second fall was a "Stretcher Match" won by Gilbert. The third fall was a "Steel Cage Match" which wound up a double disqualification. The matches caught the attention of a lot of fans and even some personnel in WCW. The matches against Gilbert helped seal a WCW offer to Jack. WCW also offered a deal to Gilbert, who initially agreed to return but then backed out fearful WCW, back under the booking control of Dusty Rhodes, would misuse him like they had earlier.
1991 also found Eddie's personal life changing as he married female superstar Debra Miceli, known in the business as Madusa. (Later known as Alundra Blayze in the WWF.) The marriage only lasted four months. Eddie also traveled to Japan during the fall of 1991 to work some dates for the W*ING group.
Global Warming
By October 1991 Eddie traveled into Texas to work with the fledgling Global Wrestling Federation (GWF). The GWF had been formed with intentions on becoming a major player in the American wrestling scene. The group claimed to have serious major financial backing. They even brokered a deal with cable network ESPN to air original TV shows five afternoons a week. To seal the TV deal, GWF personnel lead by former WCW announcer and longtime Atlanta announcer Joe Pedicino purchased the USWA syndicated TV network from Jerry Jarrett providing dozens of TV clearances for the GWF TV product. The promotion was based in one of wrestling's most famous venues, the Dallas (Texas) Sportatorium, renamed the Global Dome.
For awhile the group did quite well and provided work for some talented performers such as Al Perez, Makhan Singh (who had worked WCW as Norman the Lunatic), Skandor Akbar, Cactus Jack and others. The group also provided breaks for promising talent such as The Masked Patriot (Del Wilkes), Scott Anthony (later ECW's Raven), The Lightning Kid (later 1-2-3 Kid/Syxx/X-Pac), The Handsome Stranger (later Buff Bagwell), Jerry Lynn and others.
Eddie came into the GWF and won a TV title tournament by downing The Handsome Stranger. The next day Gilbert flew from Dallas to Memphis with the title to challenge USWA champion Jerry Lawler. During his GWF stay, Eddie brought in brother Doug to work under a mask as The Dark Patriot in a program against GWF North American champion The Patriot. Eddie would end up booking the GWF.
As all this was ongoing, Eddie found himself smack dab in the middle of a controversy in WCW, where he wasn't even employed. Gilbert had heard of a secretive deal involving WCW and Jerry Jarrett's USWA with a proposed world title match pitting WCW champion Lex Luger against Memphis icon Jerry Lawler. He mentioned the deal in passing to Lawler. Lawler, fearful the deal would be made public if the underground press, whom he knew Gilbert was chummy with, picked up the story, was furious. When word got back to WCW that Gilbert knew of the deal, fingers were pointed at Gilbert friend Paul E. Dangerously, who was serving as a WCW announcer. Dangerously was then let go, only to be reinstated a few weeks later for a major run managing Ravishing Rick Rude, Larry Zbyszko, Stunning Steve Austin, Enforcer Arn Anderson, Beautiful Bobby Eaton and former Gilbert wife Madusa as The Dangerous Alliance.
Gilbert, meanwhile continued booking the GWF. He was able to put former WWF front office employee Bruce Prichard to work as a manager. Prichard had a big run in the WWF as Brother Love but had known Gilbert from their days together in the UWF when Prichard served as second-string announcer to Jim Ross. Prichard, as manager, placed a bounty on Gilbert during his GWF stay turning Gilbert into a fan favorite. Eddie then squared off against Prichard's top charge, The Dark Patriot, Doug Gilbert under a mask. Gilbert even found work for long time friend, Sam Lowe. He brought Lowe into the GWF, renamed him Sam Esposito, and made him a heel referee.
With Gilbert's booking, the GWF was an entertaining product. Trouble was looming though. The promotion was heavily reliant on their TV show. House show business had not been successful for the GWF, and with the bad press professional wrestling was receiving in the traditional press due to a series of scandals, business was bad all over. Expenses mounted for the group. By April 1992, GWF owner Max Andrews began cutting expenses and let announcers Joe Pedicino, Boni Blackstone and Craig Johnson go, along with Gilbert. On his final night in the GWF, Gilbert grabbed the microphone and in a shoot-style (meaning it was based on reality not a storyline) promo ran down Andrews and his cost-cutting measures. The GWF replaced Gilbert with longtime area star Skandor Akbar as booker. The GWF would continue but the excitement was gone and most of the talent that remained was unproved or stale to the Dallas fans. The company would fold for good later in the year.
Doors Open and Doors Close
The day after his GWF departure Gilbert showed up on the live Memphis TV show with the GWF North American belt (calling it the GWF World title) and challenged USWA champion Jerry Lawler to a title vs. title match. With this move, Eddie returned to Memphis. The next few months saw Gilbert in his old stomping grounds.
Eddie ran into a feud in July against one time tag partner Ricky Morton over the USWA title. The feud lead to Eddie attacking Ricky's father, area refereeing legend Paul Morton and later to the return of brother Doug to help Eddie. To even the odds, Morton summoned long time tag partner Robert Gibson to reform the Rock n Roll Express to feud with the Gilberts, who were managed in some of these matches by father Tommy.
In August, the WWF ran a house show in Memphis. USWA star Jeff Jarrett appeared at the show in the audience. He eventually got a microphone and challenged WWF star Bret Hart sending shockwaves throughout the business. The move signaled the apparent willingness of the WWF to work with other wrestling organizations, a move they had shunned since 1983. While the move paved the way for Jarrett to enter the WWF and also later for Lawler to go there as well (despite his many and vociferous statements that he would never work for the WWF) they were the only Memphis area stars to directly benefit from the WWF-USWA partnership at this time. Gilbert though did participate in a September match against WWF star Sgt. Slaughter in Memphis to further the WWF-USWA relationship. Gilbert would leave Memphis in the fall. He spent a few weeks wrestling in Germany. Changes though were afoot for him in 1993.
Gilbert could still depend on wrestling in Philadelphia although things there had changed some. During the early part of 1992, Gilbert's Philadelphia employer, the Tri-State Wrestling Alliance, headed by Joel Goodhart, folded. Following Tri-State's demise, Tod Gordon began promoting wrestling under the banner of ECW (Eastern Championship Wrestling). By 1993 he was ready to step things up in his promotion. Gordon named Gilbert ECW booker.
Gilbert was esteemed by Philadelphia fans. He rarely disappointed them in his matches. He worked hard. He was funny and inventive on interviews. One of his most remembered interviews from the Philadelphia days had him wearing a crown and robe in a busy part of downtown Philadelphia. As a booker, he often emulated the Tennessee style of action he grew up watching but took it to a much more extreme tangent. In so doing, the Philadelphia fans felt as if Gilbert wanted to please them, the fans who loved professional wrestling on a level above those fans who only casually followed the business and who seemingly mandated the watered down product of the country's two largest wrestling companies, the WWF and WCW. Gilbert's relationship with the Philadelphia fans seemed to fly in the face of the braintrusts running WWF and WCW who appeared to go out of their way to continually ignore and disappoint the longtime fans of the business. Eddie was, they felt, a true star, not a prima donna working for some of the other companies. He was born to be in the business and belonged there. He didn't get in the business because some trainer saw him on the beach and felt they could make a buck with him because he had the physical requirements (but not necessarily the love of the business and it's history) to do well in the business. Eddie loved the business, warts and all, good and bad. He lived it, he ate it and he breathed it, just like the Philly fans did, and in so doing, it made him one of them.
With ECW (sometimes referred to as Eddie's Championship Wrestling), Eddie was able to book such talent as Paul E. Dangerously (let go again by WCW), Superfly Jimmy Snuka, Terry Funk, Don Muraco and local talent such as The Sandman, J.T. Smith and others. Gilbert even found room for Kevin Christian, son of Jerry Lawler, to work as Freddie Gilbert.
Eddie's ECW run at one time saw him owning 49% of the company. Gordon though was wanting to make changes. Dangerously did work some ECW shows during the year but most of the year saw him trying to get a new promotion off the ground in Texas with Jim Crockett, Jr. The effort would not fly and, by October, Gordon wanted Dangerously brought into ECW. Gilbert, Gordon and Dangerously could not agree on the direction the company needed to go, so, Eddie resigned. On his last night in the promotion Gilbert announced he was leaving and then asked Philadelphia fans to continue to support ECW. Apparently smarting from the split with his employer (Gordon) and from his one-time CWF booking assistant (Dangerously, who no doubt learned a lot at the feet of Gilbert during their 1988 CWF tenure), he then sold his wrestling gear at the back of the arena claiming he was through with the business.
Gilbert though was not finished with wrestling or with controversy. In November he and brother Doug worked some dates for the W*ING promotion in Japan. Doug was working as Freddy Krueger while Eddie was working as Michael Myers. Krueger and Myers are both horror movie characters. Feeling they and others were being misused there by the promotion (led by Victor Quinones) Doug and Eddie decided to quit the promotion---in the middle of a match. Doug allowed Eddie to roll him up unexpectedly and win the match (the finish was scheduled to see Doug win.). Eddie and Doug then unmasked, revealed they were brothers and told the fans the promotion was low class and then pledged their allegiance to Shohei Baba's All-Japan Wrestling, the premier wrestling organization in Japan, if not the world at this point in time. The move was controversial and sealed their departure from W*ING and probably any other major group in Japan.
During 1993 Eddie also worked a few dates in Minnesota for the NWA (which had split with the Ted Turner-owned WCW). Eddie and his dad, Tommy, also made an April appearance at the National Wrestling Collectors Association convention in Nashville. Eddie, who gave a brief speech thanking the veterans of the business for all they had done for the business, was well-received, especially by those he honored. In attendance were several former mat stars, many of whom Eddie had grown up watching such as Don and Al Greene, Jim White, Len Rossi, Buddy Wayne and others.
The Last Great Run
Back in Memphis as the year wound down, Toni Adams, ex-wife of Chris Adams, had just fallen out of favor with the man she had managed, Brian Christopher. Toni hooked up with Doug Gilbert and, in a surprise, a few weeks before Christmas, brought in Eddie to help her in her vendetta against Christopher (the unacknowledged son of Jerry Lawler).
Adams managed the Gilberts for a few weeks, as did Chris "Big Business" Brown, but soon a slow building storyline began taking shape involving Eddie and Jerry Lawler. The Memphis promotion decided to honor it's glorious past with a March house show at the Mid-South Coliseum called "Monday Night Memories". Several vignettes were aired to promote the event that featured highlights of Memphis stars from days gone by, complete with a brief history of the TV show and promotion. Figurehead promoter Eddie Marlin then announced the "Monday Night Memories" card would be topped off with a Memphis Hall of Fame ceremony.
The Gilbert-Lawler feud began cooking again with Gilbert chasing Lawler and his USWA title. Eddie defeated Lawler in a Texas Death Match making him the number one contender to the title. Despite this, Eddie claimed Lawler wanted nothing to do with him and along with promoter Eddie Marlin was conspiring against him. Gilbert then said he had to get on his knees and beg Marlin to give him a title match. He said he even offered to put up his hair, his car and his house to get a shot at Lawler's title but Lawler had refused all such offers. Lawler did suggest though that Gilbert put a black and silver ring jacket on the line.
The jacket belonged to Lawler's manager from the 1970s, Sam Bass. Gilbert then insinuated that Bass, who died in a 1976 automobile accident, had a drinking problem that lead to the accident. Eddie then said his dad, Tommy, ended up with the jacket when one night years ago Bass approached him and sold the jacket for twenty dollars, implying Sam needed the money to buy alcohol.
Lawler, wearing an exact copy of the jacket, told a different story. Lawler told the fans that Tommy Gilbert borrowed the jacket from Bass one night when Gilbert had forgotten his own ring jacket and never returned it. Lawler said if anyone deserved possessing the jacket, it was him since Bass had been his manager. Lawler then relayed how Bass (and Pepe Lopez and Frank Hester) died in a car accident (Lawler apparently didn't remember all the facts as he claimed he had wrestled NWA champion Harley Race in Memphis the night Bass died in July 1976. The only problem is that Race was not NWA champion in 1976.) and how the jacket did mean something to him and that he wanted it back to avenge Bass's honor which was being smeared by Gilbert's accusations. To add an exclamation point to his side of the story, Lawler brought out Superstar Bill Dundee, who was around to work a WCW card in Tupelo, Mississippi, to verify his story.
Gilbert won the USWA title and retained the ring jacket. Lawler wanted another shot. Now it was Eddie's turn to make the demands. Eddie was willing to put up Bass's ring jacket against Lawler's ring jacket and the Lord of the Rings ring Lawler had won a few years earlier. Eddie claimed he would win the match, the ring and the other jacket. He would give Bass's jacket to his brother Doug then he would take Lawler's jacket for himself and, symbolically, a new generation of wrestlers would begin ruling the Memphis wrestling scene lead by the Gilberts.
To get over how important the jackets were to Eddie, he showed old photos of Lawler wearing the jacket causing Dave Brown to wonder how Gilbert had come across these old photos, suggesting Gilbert was obsessed with Lawler. Eddie, with a faraway look in his eyes, shrugged Brown's comments off.
Lawler won the rematch but Eddie wound up with both jackets. On the TV show, Eddie Marlin demanded Gilbert return the jackets. Gilbert came out with yet another photo, this one of Bass wearing the ring jacket. He then showed a photo, obviously doctored, of Bass, whom Gilbert said had a drinking problem, offering Lawler, whom Gilbert claimed had never drank alcohol, a bottle of beer. Marlin grew outraged, called Gilbert a Lawler wanna-be and demanded that Gilbert return the ring jackets before the end of the TV show or be fired. Gilbert shrugged off Marlin's demands and said he would get revenge against Lawler in a scheduled TV match where Lawler would put up his crown against Gilbert's mother's van. Marlin did a double take and wondered out loud if Gilbert's mother knew her son was risking her van.
Again, Eddie lost. As Lawler took the keys to Peggy Gilbert's van, Eddie pitched a fit. Lawler got to the van, taunted Eddie and then stepped underneath the driver's seat. As Lawler became comfortable in his new vehicle, Eddie rushed out and repeatedly threw a fire extinguisher at the windshield causing Lawler to be blinded.
The ring jackets were still an issue though. Gilbert still had to return them. Eddie came out with the jackets and had a zoned-out look on his face. He began rambling about how the right thing to do was to return the jackets. Gilbert then turned his attention back to the jackets and said if he couldn't keep the jackets no one would. He then pulled out a pair of scissors and snipped one of the jackets to shreds. Lawler rushed out furious that his memento tied to an old friend had been destroyed and cut a short, yet strong, promo on Gilbert.
As "Monday Night Memories" approached, the promotion was able to bring longtime announcer Lance Russell back after a five year absence. With Russell's return, it was announced the promotion would make the first Memphis Hall of Fame induction on the TV show.
Eddie ran out after the announcement all excited saying his dad would be so proud about being placed in the Hall of Fame. Of course, no one had said anything about Tommy Gilbert being placed in the Hall of Fame. As Lance and co-host Dave Brown tried to explain this, Eddie rushed away saying he would call his dad to make sure he was on his way from Lexington (a hundred miles away) to accept the honor before the TV show ended.
A few minutes later, Lance along with Jerry Lawler were set to make the first induction into the Hall. The first induction was not Tommy Gilbert but Lawler's one-time manager Sam Bass. A plaque was given to Lawler and a photo of Bass was left at the desk. Moments later, Eddie and Doug rush out furious that Lawler had stolen their spotlight and that Bass, not their dad was the first Hall of Fame inductee. They then break the glass frame holding Bass's photo and rip the photo to shreds. Lawler and Brian Christopher run out to chase them away.
The feud was a classic on several different levels. The mic work, especially by Gilbert, was nothing short of incredible. The angle played out over the course of a few weeks and actually built interest in the "Monday Night Memories" show. The angle also dug deep into the history of the territory and helped introduce new fans to the history of the classic Memphis promotion while at the same time proved to be a nice payoff for fans who had followed the promotion for years. The angle also had some truth attached as Gilbert and many of his fans felt as if it was indeed time for Gilbert to get his time at the top replacing Lawler. Such shoot-like angles, not so common then, became more commonplace in the business as the 1990s progressed.
"Monday Night Memories" was a major success. Longtime office employee Randy Hales was credited for much of the success of the event. Due to his hard work he was rewarded with the head booker job. Eddie, upset because he had been passed over for the job, quit the promotion for a few weeks.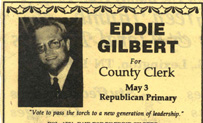 Eddie's disappearance lasted a few weeks before he came back. This time he came back as a fan favorite. There was a reason for this. Eddie was trying his hand at another venture other than professional wrestling. The other venture was politics. Eddie ran for County Clerk in the May 3rd Henderson County, Tennessee Republican primary. Eddie, who was a political buff from high school and whose mother had been involved in Henderson County politics for years, lost in his bid to win the election, finishing sixth in a field of six. After the election, Gilbert, who turned face in order to portray a nicer image for his political campaign, turned heel again.
Eddie remained in the area until June when he left the territory for good. Hales made Troy Graham, once a star in the territory as The Dream Machine, lead heel. Eddie, feeling he should have been offered that role, left. Ironically, Graham left the territory a few months later in August.
Eddie then got a call from Dutch Mantel. Dutch was booking the Puerto Rico territory and wanted Eddie to work some dates for him. Gilbert agreed and worked in front of some of the biggest crowds Puerto Rico had seen in years. Despite the good crowds there Gilbert appeared for a few months before telling Mantel not to book him anymore.
As the fall came, Eddie turned his attention to the NWA title tournament in Cherry Hill, New Jersey. He competed in the tournament but failed to win the tournament. Eddie also worked some for a Jackson, Tennessee (Jackson is the nearest major city to Eddie's hometown of Lexington) news radio station providing political commentary during the November political season.
As the year wound down, Eddie disappeared from sight. He apparently tried to get work in the Memphis office again but his lack of reliability did not appeal to anyone there. Longtime friends would go weeks without hearing from him. Finally, he turned to someone from his days as a budding photographer and wrestling magazine reporter for work.
The Bell Tolls
On January 2, 1995, Eddie Gilbert appeared at a Smoky Mountain Wrestling TV taping in Sevierville, Tennessee. SMW was operated by Jim Cornette, whom Gilbert met in the 1970s when both were ringside photographers. Their photos, and often articles, appeared in Wrestling News magazines and in programs around the Jarrett territory. Also working for SMW was another face Gilbert met at wrestling conventions in the 1970s, SMW referee Mark Curtis (Brian Hildebrand)
In SMW, Gilbert appeared with Unabom (Glen Jacobs, the WWF's Kane) and challenged The Rock n Roll Express: Robert Gibson and Ricky Morton. In one night, enough footage was shot for several weeks and immediately placed Eddie in the middle of a promising storyline with the area's top babyface team.
Eddie would not return to SMW, solidifying his increasing reputation for burning bridges in the business. Dutch Mantel, who had left SMW in 1994 to book Puerto Rico was leaving there for a stint in the WWF. This left the booking slot open and Gilbert jumped at the chance to return to the place where his dad had first given him the chance to book, if only for a few weeks, in 1982. Ironically, this booking stint would also last a few weeks as well.
On February 17, in Humacao, Puerto Rico against a live bear, Gilbert wrestled his last match. While odd for the 1990s, the wrestling bear gimmick had been a staple of the Nick Gulas-promoted cards Eddie grew up watching. At the end of that night, Gilbert and his booking assistant, Ken Wayne, returned to their respective apartments in Isla Verde, Puerto Rico.
The next morning Wayne was scheduled to meet Gilbert to discuss booking plans but Eddie did not show. Several times during the day, Wayne went to Gilbert's apartment and knocked on the door, but no one answered. Finally, late in the afternoon, Wayne, the man who Gilbert ran his first major angle against, got into Gilbert's apartment. Once inside, he found Eddie dead on his bed. Eddie Gilbert was 33 years old. He was survived by his mother and father, a brother and a sister.
Eddie's funeral was held on February 24 in Lexington, Tennessee. Among those present were Jerry Lawler, Bill Dundee, Tommy Rich, Terry Funk, Lance Russell, Dave Brown, Eddie Marlin, Sam Lowe, Randy Hales, Buddy Wayne and others. An estimated four hundred people attended the funeral. Eddie was buried with his wrestling boots and various wrestling memorabilia just outside Lexington.
The WWF and WCW, both recipients of Gilbert's talents and both full of stars who were directly influenced by Gilbert, failed to recognize Gilbert's death on their TV programs. The move showed their lack of class and lack of respect to one of the business's biggest fans and most creative stars and to his fans. The USWA and ECW did provide video tributes on their TV shows (USWA, ECW, SMW and various independent promotions, the lifeblood of Eddie's career since 1990, held house show tributes after his death). Other tributes would follow in the "dirt sheets" Eddie embraced at various times during his career.
Eddie's death raised flags in some corners of the mainstream media. A few years earlier they had picked up on a story about the use of drugs in professional wrestling, including the use of steroids.
After Eddie's 1983 car accident he was in contact with WWF physician Dr. George Zahorian (ironically, in the 1983 TV angle where Gilbert was injured by The Masked Superstar, Zahorian made an appearance as attending physician). Eddie began picking up painkillers from Dr. Zahorian and steroids as well. Apparently, Eddie felt the pressure to bulk up some, maybe because of his lack of physical size or maybe because of limitations he felt the injuries would leave with him that he felt could be overcome by increasing his size. Eddie's use of both the painkillers and steroids beginning in 1983 was now coming back to haunt him and his family, friends and fans at his death.
The media blitz about steroid usage began in the early 1990s as Dr. George Zahorian went on trial, charged with sixteen counts of various charges including distributing steroids. Of the sixteen counts, Zahorian was found guilty on twelve. Several current and former WWF stars testified that Zahorian had provided steroids to WWF stars.
1992 saw the steroid story dominate the wrestling business. Mainstream media clamped onto the story and in the process uncovered some more of wrestling's unsavory side including cases of sexual harassment.
1993 saw Vince McMahon stand trial on charges that he conspired to distribute steroids. McMahon was judged "not guilty" but the media crush which had been building for several years had led to a closer examination of the professional wrestling business. It was noted that several wrestlers died at a young age, and some under suspicious circumstances, implying drug use and/or steroid abuse.
After Gilbert's death, the media connected Gilbert with Vince McMahon and Dr. George Zahorian via the 1983 auto accident. Gilbert's death was also sandwiched in between the deaths of two other wrestling stars, both of whom died young, Art Barr (died in December, 1994 at the age of twenty eight after mixing prescription medication and alcohol) and John Studd (died in March, 1995 at the age of forty seven from Hodgkins Disease, although he had testified at the Zahorian trial that he had taken steroids, a point the media quickly discovered). The media, a few years into exposing wrestling's dirty laundry, speculated that such deaths could have been attributed to the lifestyle wrestlers live. It was a lifestyle where the performers must look superhuman for the TV cameras which could lead to steroid use which in turn could lead to serious health problems. It was a lifestyle where the physical pain from the day-to-day rigors of the business often led to use of deadly painkillers to ease the pain, and, in turn, could lead to addiction to such medicine. It was a lifestyle full of stress which often led to use of illegal drugs to release the tension. It was a lifestyle which saw performers disconnected from their families by their constant travel and, in turn, turned them into lonely figures who grew angry, depressed and withdrawn.
Those close to Eddie say he battled pain from the 1983 car accident the rest of his life, so, he did use painkillers. His brawling style only created more physical pain which likely caused more dependence on painkillers. Some say Eddie's steroid use contributed to his death. Some say Eddie was still looking for a break with the WWF or WCW so he continued to push himself physically which, naturally, would lead to more wear and tear on his body, and more painkillers. While waiting for the return of Eddie's body from Puerto Rico, Tommy Gilbert would reveal in a Jackson, Tennessee newspaper article that Eddie's chest and heart were also injured during the 1983 auto accident and that Eddie was taking medicine for high blood pressure at the time of his death. Some would put all this together to conclude Eddie's weak heart could not put up with the constant physical nature of wrestling added to use of the painkillers and medicine and that Eddie's death was due to those factors. What led to Eddie's death is a point that could be debated endlessly. For the record, medical personnel in Puerto Rico determined Gilbert died from a heart attack. Any other ideas about how Eddie Gilbert died is mere speculation.
The mainstream media, for all their vigor at uncovering wrestling scandal after scandal, eventually let go of the steroid story, and by implication, the story of Eddie's death, for some other scandal elsewhere. The major wrestling companies in turn, for the most part, sensing the media heat had subsided over steroids and other drug usage, began selectively enforcing, if even that, the drug testing they were so adamant about when faced with heat from the media. The companies were free to ignore whatever problem existed, a policy they generally follow even to this day.
On June 10, 1995, the USWA promoted Memphis Memories II at the famed Mid-South Coliseum. Wrestlers from the past returned and several were inducted into the Memphis Hall of Fame. Among the inductees that night was Eddie Gilbert. His dad, Tommy, accepted the honor in his memory.
In 1996, the first Eddie Gilbert Memorial Brawl occurred in Cherry Hill, New Jersey. The event has occurred yearly since 1996 in several locations. Over the years it has featured such talented wrestlers as Tommy Rich, Debbie Combs (Debbie and especially her mother, Cora, were mainstays in the Nick Gulas-area Eddie grew up watching), Jerry Lawler, Al Snow (who replaced Eddie in SMW), NWA champion Dan Severn, King Kong Bundy, Marty Jannetty, Buddy Landell, Flash Funk, Sid Vicious, George Steele, Kronus, Public Enemy: Rocco Rock & Johnny Grunge, Dory Funk, Jr. and of course, Tommy and Doug Gilbert, as well as talented newcomers some of who no doubt were influenced by Eddie.
On August 5, 2000, Tommy and Doug Gilbert appeared and wrestled at the NWA World Wide card called Tennessee Legends in Nashville, Tennessee. They were also on hand to see Eddie inducted into their Hall of Fame. Years removed from Eddie's untimely death, he is still remembered by fans all over the world and in his own backyard.
Closure
At a young age, Eddie Gilbert knew what he wanted to do with his life. He idolized his father and grandfather and the business of professional wrestling and many of it's top stars. Despite his lack of physical size, he became a major name in the business. He helped break down barriers by his association with wrestling's underground press. He became known as one of the most creative minds and most solid performers in the business. His antics, from shoot-style interviews (including his "I am the USWA" and "Jerry Lawler, This Is Your Life", promos not discussed here) to his ground-breaking video shoot interview tape to some of the business's most creative angles ever to unique hardcore matches, are the stuff fans still talk about today. Eddie's career was also riddled with serious injuries and disappointments that may have had a deeper influence on Eddie than any of us will ever know. Yet, from a young age, Eddie Gilbert knew what he wanted to do with his life, and, at a young age, he did those things, and at a young age, he left us much too soon.
Now in the glare of modern professional wrestling's spotlight, abounding with hardcore angles, hardcore matches and shoot-style interviews, the fans roar their approval, most of them unaware of the nearby shadows. There, in those shadows, reaching back two generations yet stretching forward and embracing those who look beyond the glare like a long lost friend, rests the legacy of Eddie Gilbert.
Eddie Gilbert
August 14, 1961 - February 18, 1995.